Book clubs
What is a Book Club?
A Book Club is a group of people who meet regularly to discuss a pre-selected book. Book Clubs provide opportunities to meet new people, discover new authors and share ideas. The City of Wanneroo Libraries currently support over 90 Book Clubs.
What does the Library offer a Book Club?
Books Clubs can borrow Books in a Bag Kits. Books in a Bag Kits contain 10 copies of the same title so all members of your Book Club can have their own copy. Each Kit also contains resources such as author information and discussion questions, which are perfect for starting converations. We provide an electronic copy of all our titles along with a blurb to give Book Clubs better insight into the title they're reading.
How can I join?
Download and fill in a Book Club registration form available by clicking on the button below. This form requires two signatories from your book club. The form should be submitted to your local City of Wanneroo library at which point you will be issued with your Book Club's library cards.
Membership to Library Book Clubs costs $150 per year which entitles a Book Club to 12 Books in a Bag Kits per year.
Don't want to form a club yourself but still want to get involved? Register your interest by emailing us at librarysupport@wanneroo.wa.gov.au
REGISTRATION FORM
ALREADY A MEMBER?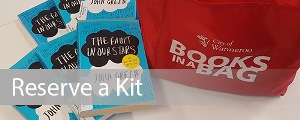 WANT A PARTICULAR TITLE?